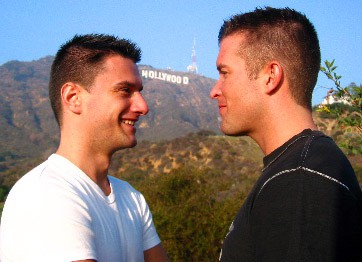 If it weren't for the delusional tone-deaf, American Idol wouldn't have a show. Why do I sit through six episodes of auditions for that silly show? It's not only to watch crackpots like Scooter Girl and William Hung humiliate themselves, but I love to watch the judges try to hold back their laughter. It's the same reason Jackass was one of my favorite shows.
When I was a kid I had a giggling problem. My best friend Steve and I could not help ourselves from laughing in certain situations. We were in the same fifth grade class but had to be separated because of our outbursts. These were not simple giggles, they were protracted periods of hysterics that became so severe that it was difficult to breathe. It was disruptive too. Our mothers put us in tennis lessons together. Bad idea. The tennis pro at the club said we were the first students he'd ever not been able to teach. I guess two twelve-year-old boys sprawled out on the court incapacitated by laughter was not good for the club's image. At church, I once had to be escorted from the front pew where we sat in Sunday School because, as the minister gave his sermon, I noticed a trail of ants crawling up the pulpit and couldn't contain myself.
It's been a while since I laughed so hard I felt like I needed oxygen. Is it me, or has the world lost its sense of humor?

She Bangs! An article (via greg.org) at the Daily Californian about American Idol contestant William Hung. And here's his fansite.

More smiles. Pick out the fake from the real. I was only able to get 13 out of 20.