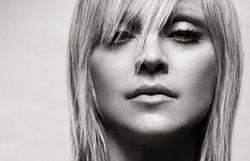 The L.A. dates for Madonna's concert sold out in minutes yesterday. The Re-Invention Tour will feature a set list of Madonna's greatest hits. But, as always, expect the unexpected. This is one concert I'm really looking forward to — it's amazing to me that we've been listening to this woman for 20 years.
What we know:
* With VIP Platinum tickets running between $700-$800 and top seat prices at $300, Madonna will be pocketing a cool $100 million for three months of concert dates.
* Clothes for the show will be provided by Karl Lagerfeld for Chanel and Christian Lacroix.
* Patrick Leonard doing orchestrations.
Rumors:
* Madonna has approached Miramax to create a sequel to 1991's Truth or Dare based on this concert series.
* Set list includes but is not limited to Nothing Really Matters, Ray of Light, Borderline, Deeper and Deeper, Bad Girl, Nothing Fails, Die Another Day, Easy Ride. Holiday and Take a Bow also rumored. Encores: Vogue, Like a Prayer.
* Die Another Day is a very sexual girl-on-girl tango.
* Madonna has been practicing spinning rifle with a color guard.