If you still need to be convinced that the world of sports does not provide a comfortable atmosphere for gays and lesbians, consider the fact that there are only five — that's "5" — athletes out of 10,500 participating in the 2004 Athens Olympics that are publicly out of the closet. Jim Buzinski of Outsports.com does the math: "Simple math and common sense will tell you that many more gay or lesbian athletes will be competing. If 10% of the athletes are gay, that's 1,000 people. Too high? Try 5%, which leaves 500. Still too high? OK, 1% still leaves 100. And even one-half of 1% still means there are 50 gay or lesbian athletes. Imagine the public attention if 50 athletes held a press conference in Athens to declare their homosexuality."
Buzinski also writes this week on the Water Polo men's world finals in Long Beach, California, and Brent Mullins' photo gallery gives us plenty more reasons to check the Athens schedule.

Don't forget your daily dose of Hot Olympians. Today's special: Spanish basketball player Pau Gasol.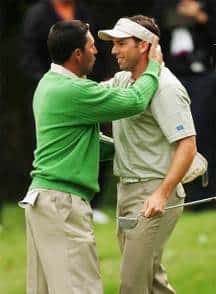 In non-Olympic news, more accusations this week in the world of Football. Philadelphia Eagles player Robert Owens, for reasons "only he knows why", suggested to Playboy magazine that his former teammate Jeff Garcia is gay. Owens answered Garcia's denials of media reports that he is gay by saying "Like my boy tells me: If it looks like a rat and smells like a rat, then by golly, it is a rat." Owens later responded to the uproar by saying, "I'm not sure if Jeff is gay or not. He had a girlfriend when we were in San Fran, and there's been reports he has a girlfriend now [he's in fact dating the 2004 Playboy Playmate of the Year], so that was the extent of it. Everyone is going to make a big deal about it, but like I said, it's not like I came out and said Jeff is gay. People asked me the same question about Steve Young. Everybody is going to have their rumors."
Of course, America learned a great big lesson this week that even a wife and kids do not prove a man's heterosexuality.


The Houston Voice runs an insightful piece on Robert Dover, the out Equestrian competing in his sixth Olympic games this year, and the competitive "horse" world in general. "I would say that many gays are involved in the horse world," says Mason Phelps, Jr., who promotes Equestrian events and trains in Wellington, near Palm Beach, Fla., like Dover. "They don't walk around with a banner or anything. But it is certainly no secret. This is a very accepting community. Nobody pays much attention to it. Everybody goes about his or her job."
Here's another great profile of Robert Dover by Patricia Nell Warren.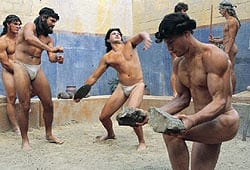 A recent article in the Telegraph UK breaks down the difference between today's modern Olympics and the ancient Greek traditions 3,000 years ago out of which today's games were born. Athletes would prepare like the photo on the left, only naked and covered in olive oil.
The article continues, "Crucially, the Greeks did not subscribe to what might be called the Californian ideal of homosexuality. Modern Californians tend to think that homosexuality is for grown-up men who would ideally form lifelong partnerships." We can dream.
The Greeks had no word for "homosexual" and sexual acts regularly took place among men, though it was not regarded as anything out of the ordinary. "The ancient Greeks took it for granted that boys, that is, adolescents, were objects of sexual gratification. That is now the sin without forgiveness."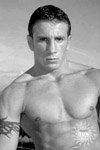 Now, if those traditions had continued, we may have been allowed to see Gergo Szabo compete for the Hungarians in wrestling this year. Unfortunately, Szabo won't be competing, as the Hungarians nixed his participation after discovering he had performed in over a dozen gay porn films under the name Sergio Foster. So that means you can still see him wrestle naked, but it won't be in an Olympic stadium.