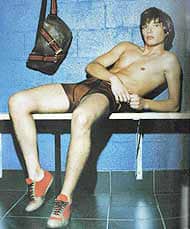 Australian gay magazine DNA has been swept up in a scandal down in Melbourne for some erotic photos of men in sports gear taken at the oldest secondary school in the state of Victoria, alma mater to Oz's crustiest elite. Bill Muehlenberg, Australian Family Spokesman, who seems to speak up at every homosexual opportunity, found time to insert himself once again. "This is irresponsible and again highlights a concern we have long held about young people being exposed to homosexuality," he told the Herald Sun. He doesn't specify the concern, however. We can only assume he's worried they'll develop tolerant attitudes — and wouldn't that be tragic?

Ex-wrestler turned football player Brock Lesnar apologized for anti-gay comments made after he was approached at a restaurant by a young woman claiming her male friend had a crush on him. A reporter on the scene wrote that Lesnar cursed at the woman and told the journalist, "I don't like gays. Write that down in your little notebook. I don't like gays." His agent John Wolf responded to the incident, saying "The man doesn't have a mean bone in his body off the competitive field. Genuine is the best way to describe him. He has such a wonderful disposition."
A hissyfit was had by ten BBC viewers after a commentator described an altercation between two rugby players as a "gay slap". The BBC upheld the complaints saying there was no intention to offend. And Richard Simmons was nowhere near the stadium that afternoon.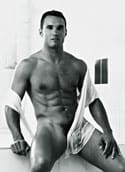 The most talked about male sports photo book of the year, Francois Rousseau's Dieux Du Stade is finally available for order from Amazon USA. Prior to this it was only available on the French and British Amazon sites. The book features 152 pages of naked French rugby flesh begging for your attention.
Finally, after my post last week about the speculation surrounding Ricky William's early retirement from the Miami Dolphins, one reader was quick to point out another player on the team, Jason Taylor, whose metrosexual manhood has made the skin care companies sit up and take notice. Says reader: Mr. Taylor has made watching the Dolphin games on TV much more interesting. I swear, each and every time he makes a good play (which is quite a lot – he's really one of the best defensive ends on the team…) they zoom in on him, on the sidelines (helmet off, of course) for at least 30 – 45 seconds. The freakin' cameramen love this guy!" Taylor is the first male spokesman for Neutrogena. The jury's still out on Mr. Williams.