You know, I've been poring over the results of the Mr Gay.com 2004 contests trying to figure out which of the five beauties chosen from America, Germany, Spain, Australia, or the UK is my favorite. I'm really having a hard time making up my mind. All I can think is, where are the blacks, Latinos, or Asians, and doesn't the German guy look like Simon Rex?
In the meantime, I thought that a far more challenging queen to crown would be Mr. I'm Not Gay.com. Now, there are really only four contestants, as far as I can see, in 2004, who have stepped up to the plate for this competition. Any others you might think appropriate (TC, MP, IT, RW) probably declared their heterosexuality in 2003 or prior to that, so, they're immediately disqualified.
Meet your 2004 contestants:

"I'm not gay. I'd like to clear that fact up right now." — Cleveland Indians pitcher Tadano Hizuki, January 2004
Hizuki starred in a gay S&M porn movie but later declared he only did it for the money.
******************************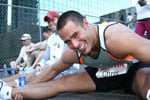 [Outsports] "knew or should have known that false depiction of Plaintiff as gay could subject Plaintiff to the general community's ridicule, contempt and disgrace (regardless of Plaintiff's being gay or otherwise), and to the gay community's ridicule, contempt and disgrace (as Plaintiff was not gay.)" — lawsuit brought against Outsports.com by marathon runner Chris Harbinson, August 2004
Harbinson recently brought a lawsuit against Outsports.com for featuring him in a gallery of the runners in the 2004 Los Angeles Marathon, unidentified, with 150 other images.
******************************

"I've heard the rumor myself that I'm gay. That is not the case. I've had girlfriends in the past and I do want to be married some day. … Somebody saying it obviously doesn't have any clue as to who I am as a person and, secondly, speaks from a sense of having jealousy for what I've been able to attain as a person and is trying to knock me. Well, they're not knocking me." — Cleveland Browns QB Jeff Garcia, August 2004
Jeff Garcia responded to ex-49ers teammate Terrell Owens when Owens told an interviewer re: Garcia's sexuality, "Like my boy tells me: 'If it looks like a rat and smells like a rat, by golly, it is a rat."
******************************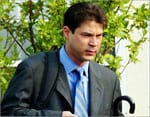 "It doesn't bother me that it is said I am gay, but I really am not. I'm straight. On the other hand, to accuse me of being an extortionist? Someone here has lost his mind." — former McGreevey aide Golan Cipel, August 2004
If you're not aware of who Cipel is, you might want to come out from under the rock.
******************************
So, anyway, it's up to you folks to cast your vote for the most outspoken heterosexual of 2004.
Disclaimer: This contest is a satire, and by no means implies that any of the contestants are gay. By the way, I'm not gay either.