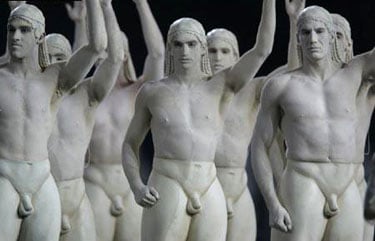 These are the crotches that were too hot for NBC. Shocking, eh? Camera shots that quickly cut in close assured that broadcast viewers only saw the upper torsos of these men made up as kouros figures during the Olympic Opening Ceremonies. Because American audiences are certainly too sensitive to handle engorged sexuality of this magnitude. A mere glimpse of so many penii might cause people to think or do horribly naughty things.
And thank goodness for the insouciant banter of Katie Couric and Bob Costas and the tranquilizing factoids they spew so we never actually have to think for ourselves or spend one second without mind-numbing commentary.
This has been a special broadcast of a previously recorded vent.