Chasing Puppy Innocence in a Pit Bull World: "Whether A Letter to True works its spell on you will depend on your immunity to the concept of glamour that fuels everything Mr. Weber does. For what is glamour but a fantasy that hovers in the gap between the successfully manipulated image and the reality behind it?"

In praise of the UPS shirt.

GQ throws party for new Alexander McQueen menswear collection.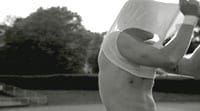 A&F debuts latest foray into cinematic soft porn and it's definitely not gay…

Honeymoon over. Queer Eye gets thrashed in homophobic rant by Rick Marin in the NYT.