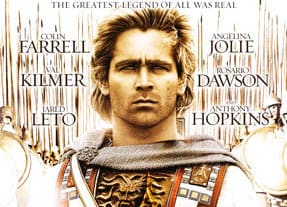 Could the country's nervousness about gay marriage be influencing the content of upcoming films?
Jeanette Walls reports that the release date of Oliver Stone's Alexander starring Colin Farrell has been pushed back from November 5th to November 24th due to anxiety on the part of studio executives over passionate scenes between Farrell and co-star Francisco Bosch.
What this means for other upcoming gay-themed films, like Ang Lee's Brokeback Mountain starring Heath Ledger and Jake Gyllenhaal, is unclear.
Earlier this year Brokeback's editor, Geraldine Peroni, was found dead in her home which raised questions about the future of the film's controversial subject matter. Towleroad's sources expressed optimism that Peroni's replacement would stay true to passionate hotel love scenes between the main characters, Jack Twist and Ennis del Mar.
EXCLUSIVE:
Towleroad's source also reports on a major feud between American fiction icon Larry McMurtry (who co-wrote Brokeback with Diana Ossana) and Ang Lee, which has lead to much anxiety on the film.
After writing a script that was lauded for its faithfulness to E. Annie Proulx's short story, McMurtry was barred from the set after he allegedly told Lee that the director did not understand the "Western" language (ie Cowboy speak) and Lee took it to mean that he didn't understand English.
For now, the film is in post, and all is quiet on the Western front.