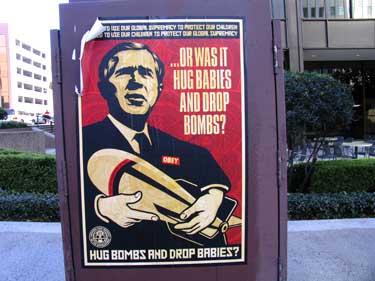 This caught my eye the other day as I was crossing Wilshire Boulevard. It's one part of a three part poster series created by art collective PostGen. Shepard Fairey designed this striking piece. The series made something of a splash at the beginning of the summer, so I'm not sure how long this one was pasted up before I noticed it. The collective may be doing a push as the election approaches.
Sometimes objects catch your attention after you've passed them by a hundred times even if they're posted out in plain view. For example, when I stopped to take this photo a dozen people who obviously work in nearby buildings started gathering around to take a look at it and comment, even though a moment before they were strolling by without a care in the world.
You can also buy their signed posters online.