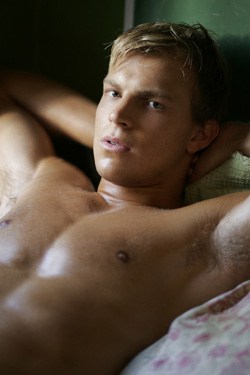 In order to ease the pain and the stress of the final week of this year's election I am happy to present something to take your mind off it.
For the next three days I'll be giving you a special exclusive preview of a photo spread from the upcoming issue of Australia's sexy and irreverent DNA Magazine. Think of this as Towleroad's Indian Summer, a trip back into the sweaty, sultry days we just left, when it was such a bother to wear clothes.
I've written about Lewis Payton, photographer and friend, before in these pages. In these dreamy, introspective shots, Lewis captures L.A. fitness trainer David Rich in peak condition.
Come back tomorrow and Thursday for parts 2 and 3 — more great DNA.