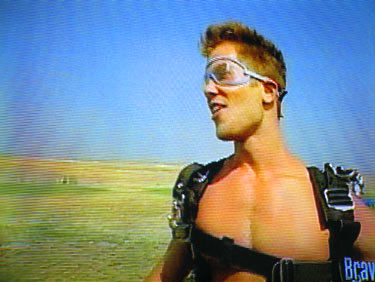 Last night's premiere of Manhunt was about what I expected: one hour of petulant, egotistical fussiness, a bit of crying, and acres of freshly shaved skin. I just about died when the models were handed a bottle of Nair for Men.
Also, black combat boots and white underwear is a look, but it's certainly not a butch one. The macho conceit of the skydiving sequence was delightfully destroyed by the man-on-man suggestiveness of tandem jumping and the "It's Raining Men" soundtrack. Finally, the brief shot of Kevin Peake in his skydiving gear was enough for me to ask, a la George W. Bush, "Want some wood?" I did feel for poor scared-of-heights Casey who, before being pushed out of the plane, looked the way my dog used to look when I used to try to push him in the door of the veterinarian for a vaccination.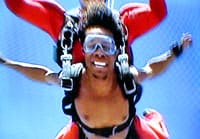 You have to give points to our out and proud representative Ron, whose hair was so thick with product that it didn't move an inch even after falling thousands of feet from a plane. There is another alleged gay model in the bunch and it's all over the TV forums on the net already so I have no problem revealing him, but for those of you who don't want to know, don't click this link.

The "real model" among the group is also extremely easy to spot. The cocky boy has already seen his share of reality TV as one of the finalists on the intellectual gem Are You Hot? He has also modeled in the Abercrombie catalog. Figured it out yet? Let's just say he's a clothing whore. If you watched last night, you know who I'm talking about.
Lastly, you'll remember the little tantrum that contestant Hunter threw at the front door of the Standard bar when he wasn't allowed in because he was underage. Let's just say that he's had plenty of experience on the inside of clubs, which these photos will attest to, taken at the Backstreet Dance Club in Little Rock, Arkansas.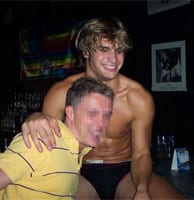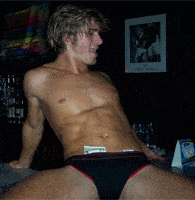 Now I bet it doesn't surprise you that his reaction to the bouncer at the Standard was ripping off his shirt.
Previous entry: Attack of the Clones