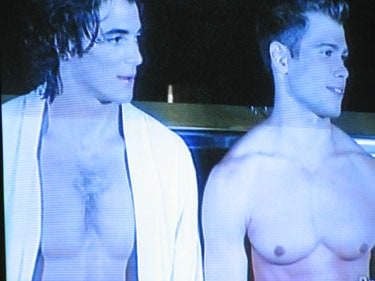 Here I am again, and yes, like a tractor beam guiding an errant rebel fighter into the Death Star, Manhunt pulled me toward the TV, held me in its sissy clutches for an hour and shook me till I bled Nair. Last week's episode drew 453,000 viewers with more males watching than females. Good work guys. And Reality Blurred reports that Bravo will be giving away free Manhunt posters to those of you having viewing parties. Now there's an incentive.

As predicted, A&F boy Kevin Peake was revealed as the embedded model. It's funny how the word "embedded" most recently came to describe journalists sent on dangerous missions with troops in Iraq. Now suddenly it's cropping up in reality shows with Carmen Electra. Thought I'd point that out.

This episode's "task" was a modeling shoot on the roof of the Standard Hotel at three in the morning, which these boys did not face like brave soldiers going into battle. Instead, they moaned, whined, and barked about how horrible it was to be awakened at such an ungodly hour and be made to take an elevator to the roof and submerge themselves in the cold pool of the Standard Hotel. I sure felt sorry for them.
The photo shoot itself seemed to go well, although the reactions of the models to their partner, Sports Illustrated model Marisa Miller, were of four varieties:
1. This.
2. I'll just flex my abs like this and…oh! She's in the picture too?
3. All I really want to do is touch her breast, dude.
4. I'm a homosexual, and I have no idea how to interact with a chick with tits.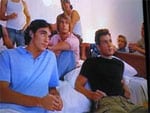 Last week's escapade between Tate, Kevin P., and the downtown hos (one of whom fell down drunk in the hallway and singlehandedly provided the most laugh-inducing moment of last week — no wonder they replayed it) was brought to a head as the boys had a somber and serious "talking to" by the other models.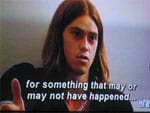 During this lecture, as Seth was making an important point about hotel rape and the Kobe Bryant case, subtitles suddenly appeared on screen. Right, Bravo. We didn't understand what he was talking about either.
Realizing that they all looked like bitches and whined like bitches, model Casey had a revelation: "I'm living with a bunch of bitches dude. It's ridiculous."
Kevin Peake reacted as well: "I'm excited cause I hear everybody hates me so far." And we all know you're embedded so that makes good TV, right?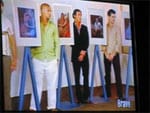 Finally (after taking not a whit of embedded model Kevin Peake's most likely jealousy-inspired advice to cut Matt and Hunter), the judges rejected four more of our boys in a heart-wrenching scene in which they had to pull the framed photos off their easels and leave immediately. But hey, at least they got to take those self-aggrandizing souvenirs!
Carmen Electra's contract obviously stipulated that she get to say something equally as dramatic (but far gayer) than Donald Trump's "You're Fired!"
The line that will now strike fear into the hearts of models everywhere?
"THAT WAS YOUR LAST SHOT."
What I really wanted to hear her say was:
"[Substitute model's name here] cries when he ejaculates."
But perhaps that's best left for another show.
Previous Manhunt Updates:
[Manhunt: Anyone Want Some Wood?]
[Attack of the Clones]