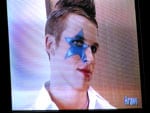 Turns out it was a bit of cleverly placed dialogue, as the boys' next "task" was to gussy up in androgynous gear and make-up for a ziggy Stardust meets Mad Max-style photo shoot, in order to test their masculine comfort zones. And there's certainly nothing more entertaining than watching those not assured in their manliness get painted up with eyeliner, lipstick, and hairpieces.
Displaying Evangelista-esque qualities, South African diva Paulo wanted total control over his make-up and hair until the make-up artist slapped him down but good: "I don't need your input." (…bitch!)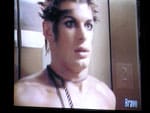 We were a little worried about poor Hunter when he was shown his outfit — a plaid kilt, rather than the masculine chain-mail body armor he'd had his eye on. Worried about what the folks in Arkansas would think, Hunter hit the wall, literally. Would he just go off the deep end, Boy Meets Boy-Andra-style? Or would he pull himself together like a professional?

He soon stopped worrying about the skirt and began obsessing about why one side of his abs popped more than the other, causing Jason to comment, "I think he's more concerned about his abs than world peace."
I think he should probably be more concerned about the gay strip club photos that turned up last week than either of those things but I guess abs and world peace are what models tend to focus on these days.

Well, after a heady montage of pursing lips, tongue sticking out, and general worry about looking too gay, the photo shoots were finished.
Embedded Abercrombie model Kevin Peake advised the judges that "the ones that have potential to be supermodels" are Rob and Tate, despite Tate's procilivity to pee in cups rather than go down the hall to the Men's room. Rob, Towleroad's personal favorite of all the models (who next week is revealed to the others to be gay) worked really hard on this shoot and we applaud him.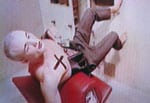 His photo apparently revealed a very fierce vein sticking out of his forehead, most likely caused by all the stretching and upside-down acrobatic positions he was forced into. Rob's vein, however, provided the best line of the entire show, as Bruce Hulse analyzed the poor boy's photo:
"If nothing else there's tons of aspirin ads out there waiting for you."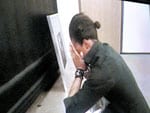 Finally, ten points to exiting model gay boy Ron, for not only being out and proud, but also for displaying the most open womanly sobbing we've seen so far.
I'm sure he'll be okay, especially because he has a porn career to fall back on!
And can Carmen Electra be any less emotive? She makes Donald Trump's receptionist Robin look positively perky.
Past updates:
[Big Boys Don't Cry]
[Anyone Want Some Wood?]
[Attack of the Clones]