Went out to see The Motorcycle Diaries yesterday. I have to admit that most of the reason I went was to look at Gael García Bernal. But not only am I a sucker for that appealing, serious face, I am also a sucker for road movies. The film is based on the journals of the young Che Guevara and details a journey he took with his friend Alberto Granado across South America by motorcycle in his early years, when the two were medical students.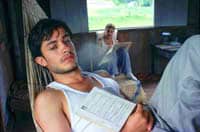 The film's narrative is linear to a fault, without much depth beyond the anecdotal misadventures of the young twosome, who seem to encounter all the traditional road movie clichés (breakdown, running out of cash, being run out of town, etc). To García Bernal's credit, he pulls it off with aplomb and humor — he is a true movie star: engaging, dashing, sympathetic. I could have done with less of the motorcycle wiping out (a thread which quickly exceeded its charm) and needed no further demonstration of Che's lack of dancing ability.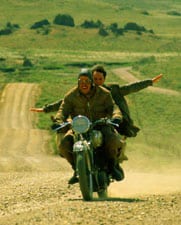 The film's most stirring scenes come as Che and Alberto arrive at a Leper Colony on the Amazon to treat patients and demonstrate a willingness to cast off prejudices associated with the afflicted. This is the one spot (aside from a brief flurry of scenes at a migrant mine in the Chilean desert) where the plot is developed with proper resonance and the political and social nature of Che's future can be foreseen. Yet the deeper psychology of one of the greatest revolutionary figures of last century is never plumbed; the film could have been about any young man trekking out into the world to discover his true purpose. Motorcycle Diaries is also a story of friendship, though even that intent feels somewhat forsaken. Ultimately it's an innocent and inspiring film with ambitions that never fully mature.
Above all, it's a gorgeous tribute to the stunning rural countryside of Argentina, Chile, and Peru, accompanied by a soothing, gracious soundtrack by Gustavo Santaolalla.