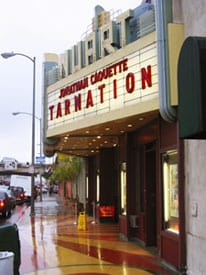 You may have heard about Jonathan Caouette's Tarnation (I think I've mentioned it a couple times on this site). It's a work that's been in progress his entire life, but that he finally pieced together with Apple's iMovie software last year at a cost of $218.
Tarnation came into its own after Caouette submitted a segment of it as an audition tape for a film John Cameron Mitchell (Hedwig) is doing — I'd guess it's the sex project he's working on but I could be wrong. Caouette didn't make the cast of that movie, but his clip did catch the attention of Cameron Mitchell and subsequently Gus van Sant, who became attached to Caouette's project as executive producers.
I went to see Tarnation the other afternoon, the first rainy day we've had in L.A. in a long time. It's not a date movie and it's certainly not a "feel good" movie, although Caouette's struggles and how he's dealt with them are cause for admiration and great respect. It was the perfect rainy day movie because it's introspective, cerebral, and haunting.
Tarnation is a brutal and visually fascinating collage of video, 8-millimeter film, photographs, and music that chronicles Jonathan Caouette's life. It's an often painfully revealing self-documentary. Caouette grew up outside of Houston and was raised primarily by his grandparents after his mother Renee, who figures prominently in the movie, endured rape, shock treatments, and mental illness. Caouette eventually came to take care of her. Tarnation is a window into that world but also the coming out story of a boy who finds himself defiantly different.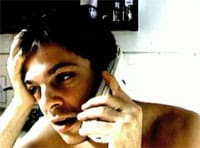 Although the film is often difficult to watch, there are touching bits of humor and tenderness that come through the pain. An early video has an astoundingly assured eleven-year-old (if I remember his age correctly) Jonathan acting out a drag domestic abuse melodrama. He later directs experimental Marianne Faithfull musicals and records himself lip-syncing the "Frank Mills" song from Hair. The scenes of mentally-ill Renee, who in the final minutes of the film relates a hypnotic, meandering soliloquy on the wonders of a pumpkin, are fraught with anxiety, but also with the deep care that a boy has for his mother.
This is not an easy film to watch but it's a mesmerizing achievement and perhaps the first piece of cinematic art to emerge from the do-it-yourself tools of our new digital age.
Seattle Times: "Indie director's $218 movie gaining worldwide acclaim"