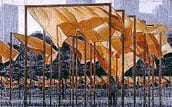 Installation of Christo's saffron-colored "Gates" project gets underway next week in New York's Central Park. Banners to be unfurled in February. More on the ambitious public art project here.

Camouflaging fear and loathing as moral values: "Here's what Republicans of conscience have to understand about the machinations of Karl Rove and company. Fear isn't some emotion that can be easily bottled back up after it's been — viciously — unleashed…There's nothing more despicable than creating a phony political issue and preying on people's prejudices."

Behind Desperate Housewives: Show was rejected by by CBS, NBC, Fox, HBO, Showtime and Lifetime. I also never realized creator Marc Cherry was a gay Republican.

Our Leader. Bush billboard paid for by Clear Channel raising eyebrows in Florida. "Didn't Saddam Hussein have his picture up everywhere? What next, a statue?"