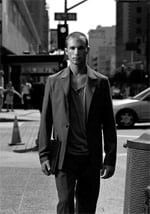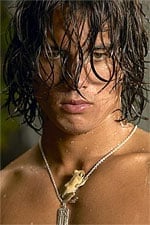 Tonight two models face off in the Manhunt finale, the winner receiving a $100,000 modeling contract with IMG.
After beating out a field of 13 other contestants to get where they are, Rob Williams, the sleek, doe-eyed gay stunner from Texas will face off against Jon Jonsson, Icelandic surfer stud from Carmel, California.
In tonight's episode, "embedded model" Kevin Peake will finally be revealed as a mole in the competition and, according to Reality Blurred, the contestants will strip down to nothing for a completely nude photo shoot. Perhaps they are auditioning for a Brylcreem commercial.
RB also points us to this interview with Jonsson in which he reveals that he's got a good head behind that beauty. He was pro-Kerry and struggling to choose between modeling and astrophysics.
Look for an interview with Rob Williams on Towleroad as soon as tomorrow!
Finally, if you've missed Manhunt all season, there's a quick way to catch up. We've been following it closely. It reduces stress, and is therefore a proper anti-aging technique!
The Towleroad episode guide:
Episode 1: [Anyone Want Some Wood?]
Episode 2: [Big Boys Don't Cry]
Episode 3: [A Rope to Hang Me With]
Episode 4: [Bitch Fest]
Episode 5: [Let's Play [With] Ball[s]]
Episode 6: [Calendar Girls]
Episode 7: [Wash your Mouth Out]