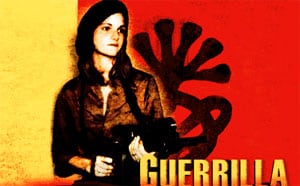 I saw a great documentary last night that was part of the American Film Institute (AFI) Fest. Guerrilla: The Taking of Patty Hearst wasn't anything I had been planning on seeing so I wasn't sure what to expect. But it was completely engaging and really filled me in on what was a spotty history in my mind of the Patty Hearst kidnapping.
Since I was only seven at the time, my recollections of those incidents are vague at best. I remember my mom talking about "brainwashing" and didn't really understand what that meant. Since then I have to admit I've never bothered to fully educate myself on the events of 1974 — the Symbionese Liberation Army's attempts to create "revolution" by targeting corporations and individuals that to them were cogs in the "fascist" regime of the U.S. government.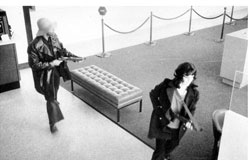 The film documents the SLA's activities from their initial murder of Oakland school superintendent Marcus Foster, to the Hearst kidnapping, to the Hibernia bank robbery and murder of Myrna Opsahl in 1975, for which four members went to jail in 2003. It's a fascinating and engrossing look at terrorism which comes off as extremely prescient.
One thing that captured my attention was the SLA's ability to force the media (and Hearst) to cowtow to their every demand for a short time. Patty Hearst's taped recitation of the SLA's motto, "Death to the fascist insect that preys upon the life of the people", along with recordings of her messages to her father provides a gripping auditory accompaniment.

There was audible laughter in the theater when one of the interview subjects spoke of the incredulity of many people that Nixon could have gotten re-elected. This after amazing footage of the Vietnam War; suffice it to say, the mirror to today's events was not lost on this audience.
It also places in bizarre context Patty Hearst's current profession as film actress and muse of John Waters.
The film contains extensive interviews with members of the SLA, investigators, and first-rate footage of the events surrounding Patricia Hearst's kidnapping. As a document looking at history it's a cultural lightning rod. As a piece of entertainment it succeeds admirably. The filmmaker Robert Stone said it was to be released nationally the last week of November. Recommended.