The videos really do reveal essential components of the models' personalities. Jon Jonsson's approach of putting ketchup on the other models faces and pretending he is a boxer who just punched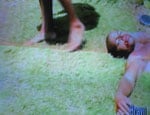 them out displays a charmingly neanderthal approach to modern storytelling juxtaposed with a sophisticated script: "When I get done knockin' fools out I look like this!" It results in a video about which he is no doubt stoked.
Maurice's video is, well, very Maurice. His script, "When I get home from a long day as a personal trainer, I'm not so fresh," offers about as exciting a ride as a Dodge Neon. He does, however, ask a hotel guest to join in the commercial and sniff him at the end of it, putting the hint of a grin on our faces. The hint.
It's Kevin Peake's commercial, however, which provides the first insight all season into any behind-the-scenes vitriol. Pretending to be rejected model Hunter Daniel, Peake films a spot-on scathing rendition of Hunter's strip talent. "My name is Hunter Daniel. When I get home from a long night as a Chippendale's dancer I look like this," he says as he wets his hair and flings it back in a Nomi Malone spray flip, a display he seems just a bit too good at.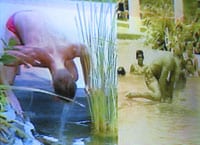 Perfectionist Rob wants some re-shoots which ruffle feathers but in the end lift his video above the others. It's clear he got some strategic creative ideas while the other guys were shooting. Moving that dung to the other shoulder was definitely the right idea.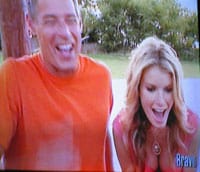 The videos go over well with judges Bruce Hulse and Marissa Miller — for the most part. Hulse scolds Kevin Peake for making fun of Hunter, calling his commercial in poor taste and mean-spirited, comments that really carry no weight at all, as seconds before millions of viewers watched Hulse and Miller in knee-slapping hysterics over it.
Next comes another dinner with "clients". We're not really sure who the clients were to which they were referring because it just seemed to be the judges and Carmen Electra. But perhaps Carmen has an equal time clause in her contract or something.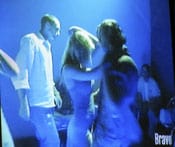 Then the models board a limo where Jon Jonsson directs a vow of devotion to his girlfriend straight into the camera as they head to Club Element Old San Juan where he feels a chick up on the dance floor (and Rob wants for a partner nearby).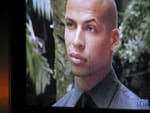 The real test this week is a jungle photo shoot complete with rainforest creatures which include tree frog, giant millipede, white parrot, and tarantula. Arachnophobes need not apply. Maurice immediately starts freaking out about the spider. What would Vin do?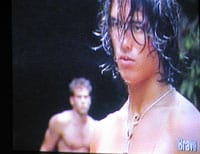 Rob seems the most comfortable working with all the animals, but that's the job of a zookeeper. Jon Jonsson, it's noted, appears to be stepping up his game, and as Kevin Peake (is it love or jealousy?) looks longingly from a distance, does perhaps the sexiest Greystoke with tree frog portrait we've ever seen.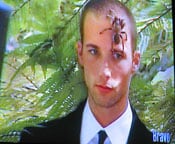 It's all very Animal Planet as the models are posed with the bird, the worm, and the frog, but really everyone's waiting to see them with the tarantula on their faces. All perform admirably, yet it's Maurice's intense photo (read intensity=terror) that gets chosen for the final lineup.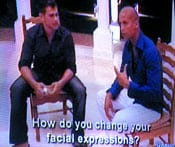 Still, Maurice can't seem to overcome the deadpan issues. Even a counseling session with Kevin Peake—where he asks for some very important advice—doesn't stop the criticism (but does inspire perhaps the most entertaining subtitle of the season). Doug Ordway, the photographer complains, "the expressions are constantly blank. It's just the same. No personality."
Embedded model is introduced to the judges again, as if they've never met, and Peake does nothing to save Maurice's ass except slap him with a backhanded compliment that he "has that serious WWF look." So Diesel's out and we're looking at a New York showdown in next week's season finale between high fashion Rob and surfer brat Jon. May the best zookeeper win.
Past updates:
[Big Boys Don't Cry]
[Anyone Want Some Wood?]
[Attack of the Clones]
[A Rope to Hang Me With]
[Bitch Fest]
[Let's Play [With] Ball[s]]
[Calendar Girls]