"The Manhunt 6″ as they're now apparently called, at least until the end of this episode, are to be treated with a taste of the good life, which, according to the show's producers, consists of appearing on Access Hollywood, eating sushi at Hollywood & Highland with some skanky hos, driving a Lamborghini, riding in a stretch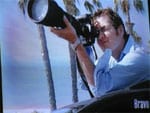 limo, getting photographed walking into a club, partying at said club, and being followed the entire time by paparazzi pretending that since you're on Bravo TV you deserve the attention usually reserved for the Hilton sisters.
Kudos to Rob, whose experience in L.A. made him realize that this "good life" is probably closer to the ninth circle of hell. Rob continues to be the sanest stud of the bunch.
First stop was Access Hollywood, where host Shaun Robinson asks the boys to demonstrate the challenging tasks asked of models, like selling asthma equipment and doing push-ups. She has the gay task ready for Rob, whom she asks to "Strike your best pose." Rob does more of a spin, but that's okay, because we love him. When it comes down to Hunter and she asks him to do a handstand, he declares that he can't do a handstand unless he has his shirt off.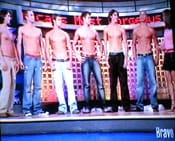 Then comes the most important part, "the synchronized ab reveal" which makes it perfectly clear that nobody gives a shit whether or not you can sell asthma equipment.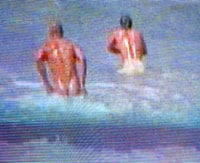 Then it's off to the beach for some football and a volleyball contest to see who gets to take a yellow Lamborghini for a test drive. Forget about the tired yellow car. This is just one more opportunity for Hunter to show off his gymnastic skills, for Rob to prove that gay boys really can't catch a ball, and for Maurice to show off his fine tight ass.
That night, the boys have dinner at Hollywood & Highland, overlooking "glamorous" Hollywood Boulevard which middle America doesn't know is really a filthy alley rife with homelessness, puddles of urine, and heroin addiction.
But first, some sage modeling advice from "embedded model" Kevin Peake: "There are so many moments when you're out with clients. How do you handle yourself in this situation? This is where people either get to loathe you or hate you." (Actually, he said "love" but it came out more like "loathe")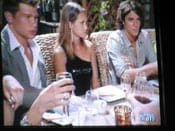 Well, they're not exactly out with "clients". Their "dates" are a group of bitchy "working" female models who quickly don't give a shit that they are out with Bravo reality TV contestants. "Shut the fuck up," Jon Jonsson murmurs under his breath, after the smoke-blowing dragons whip out more cigarettes and dive further into skanky self-obsession. Hunter doesn't seem to notice. He's too busy trying to get his fork through the sushi.
Rob is quick to see through it all: "Finally these guys were annoyed in the same way people were annoyed with them." After dinner it's off to White Lotus for some dancing, where photographers are waiting to click their picture as they walk into the club. More reason to love Rob: "If I was at the White Lotus waiting in line I'd be like, 'Who are those jokers?'"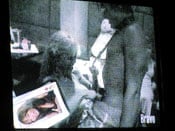 At White Lotus, Hunter's "inner stripper" comes out. Need we remind you again, it's not so inner. I'm actually probably far too hard on Hunter, but he just makes it so easy. Really, to give the kid a break, he's a young guy from DeQueen (not making that up), Arkansas who probably hasn't been exposed to much. Doesn't mean he's not a psycho drama queen, but time will tell. Hunter gets busy at White Lotus, doing what he does best.
Note from the paparazzi: "I would say keep the shirt on, less dry humping."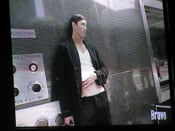 Oh, and yes, there was a modeling shoot in this episode! Something having to do with leaning against buildings in suits. Anyway, there were clothes involved, so we were even less interested than Hunter.
Long story short. Let's cut to the chase here. Who gets cut and are there tears?
The photos that the paparazzi has been shooting surreptitiously are shown to the models, and since they really aren't that scandalous at all we move on quickly to the elimination, which is made all the more suspenseful with the announcement that next week the models will be going to Puerto Rico.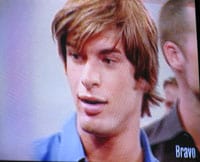 "Please, God…" Hunter mouths silently.
Meanwhile, the judges discuss Hunter's White Lotus antics. "What do you think his Bible study group is gonna say?" the judges wonder amongst each other. Answer: Not a lot considering they've probably already seen the photos of him spread-eagled on the bar at the Backstreet Dance Club in Little Rock.
Embedded model Kevin Peake comes in to confer. On Jon Jonsson: "I don't see the fire in his eyes." On Tate: "I don't see him having the best work ethic." Was it pissing in the cup or the personal stash of booze that gave it away?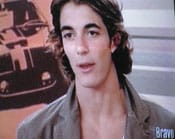 Lesson learned:
"Bad boys of modeling don't last long."
Tate goes, dry-eyed (but likely not dry-mouthed), and we're down to five.
Past updates:
[Big Boys Don't Cry]
[Anyone Want Some Wood?]
[Attack of the Clones]
[A Rope to Hang Me With]
[Bitch Fest]