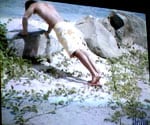 Peake asks the photographer to "shoot up at his tits" so they'll look bigger. Peake's cockiness gets more attractive or more abhorrent every episode, depending on your level of physical attraction to him. He's one arrogant son of a bitch. But at least he's not doing desperate push-ups in the bushes.
Turns out the swimsuit calendar competition has a twist. The models will compete to sell calendars. A kiosk area is set up in the hotel, monitored by hidden cameras, where Hotel Paradisus guests can buy the calendars they like.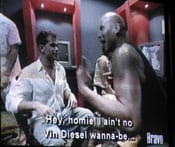 This inspires animated reactions from the models, as they watch customers shopping from an undisclosed area. One woman looks at Maurice's calendar and says, "Oooh, Vin Diesel," which prompts never-before-seen actual emotion from Maurice (and subtitles!). "Hey homie, I ain't no Vin Diesel wanna be," says the normally restrained competitor. Hey, what's wrong with Vin? A little too light on the feet? Guess being a Bravo reality show contestant is really a much better option than multi-million dollar movie contracts.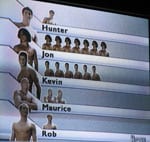 This competition also gives a chance for Bravo to show off what we can only assume is a preview for the Manhunt video game featuring scoring icons of all the models. (I get to be Rob!)
As dozens of females fawn over the calendars, lo and behold along comes a Friend of Dorothy whose unflinching gaydar directs him with pursed lips to Rob's calendar. Is this a nod to Manhunt's gay audience or simply a lesson that even in Puerto Rico they can swish like the best of 'em.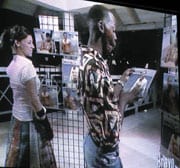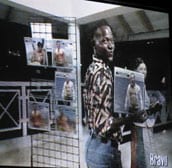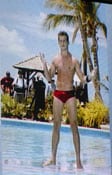 Surfer Jon Jonsson wins the calendar competition meaning he gets first choice of outfits for the poolside fashion show, choosing a pair of (surprise!) surf jams. Rob, who came in dead last despite his homosexual fan ends up left with a skanky pair of spandex boxer briefs. The boys are all impressed by Kevin Peake's bold choice of the lone red Speedo ("I'll take this just to show these guys who's got balls here."), but we could see the jealousy in Hunter's eyes when he pulled that pair out of the running. No thongs unfortunately.
Model Bruce Hulse gives the boys some words of encouragement. "When you go out there, you wanna own that space. Bring your presence, your inner chi, your mojo."
Jon Jonsson impresses the judges as they watch at the pool's edge. Says Hulse, "He's got a manly walk. He's not sashaying his hips like some of these guys are."
Yet soon the fashion show turns ugly. After Peake does a backflip into the water off the runway, his antics quickly induce others to follow suit. Of course, Hunter needs little encouragement to turn his performance into an all-out Chippendale's extravaganza, complete with gyrating hips, splits, and armpit love. Welcome Hunter's "inner chi", straight from the Backstreet Dance Club in Little Rock.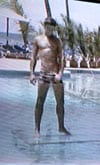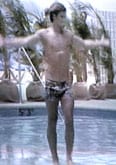 So how does one follow that performance? Nervous Rob, dressed in what can only be described as leftover pimp attire, comes out next having a sort of flamenco meltdown, looking as comfortable as a deer at an NRA convention. Rob, you're still our favorite.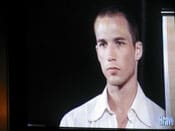 Finally, it's time for someone's last shot. Hunter and Rob find themselves in danger after their inappropriate displays at pool Paradisus. "You're showing designer clothing, not doing a burlesque show, " Hulse tell Hunter, then turning to Rob for the kill. "In 25 years of modeling I have never seen such an appaling display of runway work. You came out there, you started dancing. You're not a dancer. It was wretched. You are not Kevin Peake, you never will be." [Ed. note — ouch.]
Rob skulks away as embedded model Kevin Peake, or, as we're now calling him, Bruce Hulse's Mini-Me, comes to offer his professional modeling opinion, giving the thumbs up to Rob and perhaps saving him from the male model remainder bin.
Ultimately, the show's result leaves Carmen Electra gasping and Hunter crying. The boy from DeQueen gets cut. We sincerely hope that Hunter uses his experience to go after his dreams and doesn't end up dancing on the bar at Mickey's in West Hollywood. And we apologize for the continuous grief we've offered him. He just made it way too easy.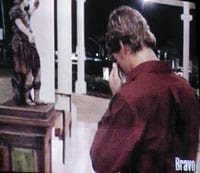 Past updates:
[Big Boys Don't Cry]
[Anyone Want Some Wood?]
[Attack of the Clones]
[A Rope to Hang Me With]
[Bitch Fest]
[Let's Play [With] Ball[s]]