Andy Bell of Erasure comes out as HIV+. Responding to an article being discussed on a forum, he releases this statement: "Thank you to all the fans for their concern expressed on the Erasure forum over my H.I.V. status. I found out I was H.I.V. + in June 1998 when I had a bout of pneumonia in Mallorca, since then I have been taking combination therapy & I am feeling fine in fact I have never felt better. Being H.I.V. does not mean that you have a.i.d.s. My life expectancy should be the same as anyone else's' so there is no need to panic, there is still so much hysteria & ignorance surrounding H.I.V & a.i.d.s lets just get on with life i.e. making music, doing a live tour & generally having a good time. (Statement)

Elton John can't seem to help looking at his fellow pop stars with a critical eye and then opening his mouth. George Michael is now responding to an interview Elton gave in which he criciticized Michael's album Patience and said Michael needs to "get out more" among other things.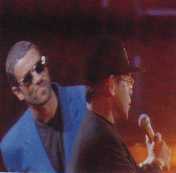 GM responds: "…to this day, most of what Elton thinks he knows about my life is pretty much limited to the gossip he hears on the 'gay grapevine' which is, as you can imagine, lovely stuff. Other than that, he knows I don't like to tour, I smoke too much pot and my albums still have a habit of going to Number One. In other words, he knows as much as most of my fans. What he doesn't know is I have rarely been as happy and confident as I am today, thanks to my partner Kenny and the continued support of my fans. If I stay at home too much, if anything it is because I am too contented right now. I have travelled the world many times and at 41, I think I have earned the right to a quiet life, which I truly love, and maybe Elton just can't relate to that."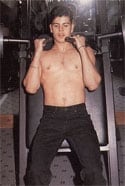 Former New Kids on the Block singer Jordan Knight talks about a casting offer he turned down for last year's gay parenting sitcom It's All Relative. "They wanted me to play an ex-boybander. I would've played a gay guy, but (the character) was basically me. So it would've been like I was coming out of the closet. They made it out like I was running down the hallways yelling, 'I'm not gay! I'm not gay!' which was not the case. I haven't been asked to do a part since." Instead he'd prefer to dwell in the quiet closet of obscurity.

In a move that Singaporean gays are tying to the recent release of junior health minister Dr Balaji Sadasivan's warning about a sharp rise in the number of new AIDS cases among gay men, the Singapore government refuses to issue a license for a massive party. The implication seen by gays in the region is that this signals the end to a more recent openness towards homosexuality in that repressive country.