Susan Sontag, writer, intellectual, and alleged very private (sometime) lesbian, dies at 71. Sontag rarely wrote autobiographically, but a complex and focused attention to gay male culture ran throughout her life's work, in particular a central important 1964 essay entitled "Notes on Camp" in which she deconstructed camp aesthetics in relation to the homosexual subcultures of the time.

Twentynine Palms Marine MP shot dead after Los Angeles car chase. The Marine, Patrick Edward Vallor, had allegedly picked up a transvestite hooker. When he discovered the hooker was a man, he killed him and dumped the body. LAPD cornered the Marine and when he raised his weapon, shot him.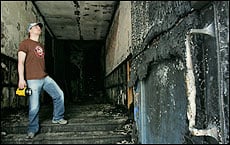 Auckland's gay nightclub Flesh was the target of an arsonist's fire bomb Monday night, forcing its 20 occupants to flee. Nobody was harmed in the blaze. New Zealand's Parliament has recently moved toward enacting civil union laws.

Study: Gay and straight men have similar body image issues.

Washington Post: As world looks to U.S. for global leadership in wake of disaster, Bush MIA once again on Texas ranch.

Gay resort of Patong Beach in Phuket "a scene of utter devastation." Walls of pictures are a grim reminder of the toll that has been taken.