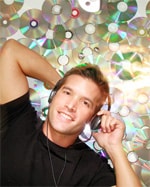 Here's a special offer for those of you looking to expand your music collections. Buy mine! I've successfully completed my transition to digital and now I've got 1500 or so CDs to get rid of, so, I'm having a little auction.
The one catch is that you need to be in Los Angeles to pick them up. There's just too much to ship! This is an amazing collection of dance, electronic and pop, singles, full-length, and compilations, and a great way to build up your collection or fill your iPod. That cheesy photo was taken back in my magazine days. But these CDs will make you that happy!
If you have questions about the collection, just ask.
ADDENDUM: It's actually 1,350 CDs. I was a bit overzealous in my count. Sorry!