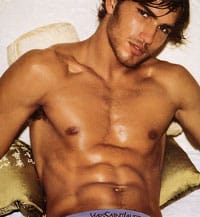 Modelizer was right when they said I had a thing for Bruno Santos. I hadn't however, discovered "Bruno Seasons", his new website which is perhaps the most extravagant personal website I've seen for a male model, ever.

I'm not complaining. The hundreds of photos will show that Giselle isn't the only incredible beauty to come out of Brazil. There are also PDF interviews to download in which you can see that even though they are beautiful, models are capable of some of the dullest conversations ever, particularly a girly-talk interview by Markus Schenkenberg on "Supermodel hotline" that ends just short of discussing hair-removal techniques.
Still, Bruno's just about my favorite thing to see on a page.
Bruno Seasons
"Bruno Seasons the World Wide Web" [Modelizer]