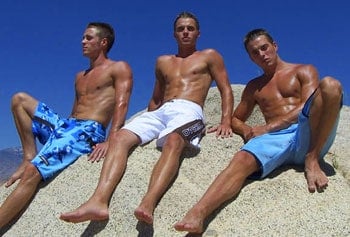 Remember the Cingular triplets? Well they, like all hot multi-births, seem irresistibly drawn to marketing themselves as pin-ups.
Until some set of hot quadruplets comes along, the Karshner triplets look ready to take over your local calendar rack, making twins seem so last year. While they don't have a calendar just yet, they're well represented around the net. Jonno over at Fleshbot gives us the guide to everything Karshner.
I found it not so surprising when I checked out their website forum and found that the most active topic was "Triple Gay or Triple Straight?".
Of course it's filled with speculative nonsense, accusations, responses from (what I'm assuming is) their defensive father; the kind of mindless blather that just makes you end up feeling sick to your stomach about society.
I've always felt no sympathy when a politician whose actions have hurt the gay community is outed. And I've always felt that actors, artists, musicians, and other public figures should be left to their own devices when it comes to that issue (for instance, posing on the cover of a gay guide, having illegal sex in Beverly Hills park toilets, or vehemently proclaiming "I'm not gay" till nobody believes it anymore).
People are always going to speculate. It's human nature. Gay people want fantasies, they want role models, and (like everyone) they want sex. But outing people via speculation seems like a hopeless endeavor. If they're not hurting anyone, let them do it for themselves. Because if they are, they probably will.
The Karshner Triplets [Fleshbot]