It's been hard for me lately to hold my tongue lately about Clay Aiken. Watching him rise from country hillbilly to fashion bumpkin on American Idol and nearly win the competition was an admitted guilty pleasure, and watching him evolve from hick to, uh, slick, has been a different kind of voyeuristic experience.
Clay's descent into divadom looks to wreak havoc on his reputation and career. A recent outburst at a New Jersey school where he "sicced security goons on a student who snapped a photo during rehearsal" and displayed un-idol-like qualities has put the focus on him and all aspects of his entourage.
Prying eyes are probably the last thing that Clay wants, particularly when they're drawn to a very special Claymate named John who keeps showing up at his tours.
Today,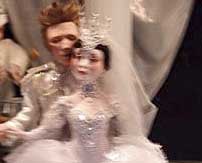 Arjan points us to a Marshall Fields Christmas window display, where Clay has been placed kissing and waking and wooing the frozen princess Snow White. These photos from flickr are enhanced by camera1's hilarious captions…meant to be the dialog of Snow White:
"Where are the seven little men from the diamond mine?…I thought he was gay…Not that there's anything wrong with that, you know, whatever. He broke that bitch's spell, so it's all good. After this window gig is over I'm going to have the Queer Eye guys pull an intervention on his hair, though."
In light of Clay's recent explosions and alleged adoring fan, Snow White might want to watch her back. The wicked queen may be closer than she thinks.
Clay Aiken & Snow White flickr photostream.