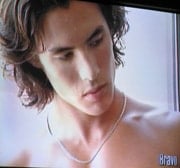 He never seemed destined for literary pursuits so the existence of this blog by Bravo's Manhunt modeling contest winner Jon Jonsson is a surprise. Still, it does contain the kind of earnest thinking we've come to know from the surfer/astrophysicist.
On New York: "…there was nothing that could prepare me for the horrible hellish weather here. Granted it could always be colder, but for Christ's sakes it feels like every single step I take is a step closer to a bone chilling death."
On Bruce Weber: "This is a mere mortal human being who is able to turn regular moments in time, into amazing works of art. For me to be able to meet a person I respect so much is truly a gift and to be able to get pointers from him, which consisted mostly of just having fun and being myself, felt like an aspiring artist getting tips from Leonardo DaVinci himself."
On death by war vs. nature (tsunami): "The war in Iraq has claimed almost the same number of innocent civilians, yet is deemed as such a great affair by so many people. Is it a better death to fall at the hands of one corrupt leader who kills to feed the greed of those who influence him, or to fall at the hands of Mother Nature?"
We're definitely stoked to hear more from this model philosopher. On the main part of his site you can buy some hunky prints for tsunami relief.
Jon Jonsson's Personal Blog [Link]