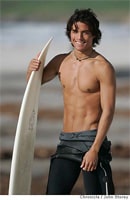 Manhunt winner recently spilled the beans to the SF Chronicle that he had been secretly selected as the winner of the Bravo male modeling reality show two episodes before the final. "'Manhunt' was just a show to exploit all these guys. I'm not afraid to say it — I'm not under Bravo's contract anymore. Secret battles were going on between IMG and Bravo people over who was going to be eliminated, based on who would make good TV." Jonsson goes on to say that he hopes he'll make enough in this phase of his career to surf for the rest of his life.
Meanwhile, out model Ron (remember the unabashed skydiver with the big hair?) has been spotted in a fashion shoot over at tdink, and he hasn't lost that trademark 'do.
Our man Hunter, the Arkansas whirlwind from DeQueen, has resurfaced with an "authorized" 2006 calendar due to hit stands seven months early, in May.
Any other sightings out there?