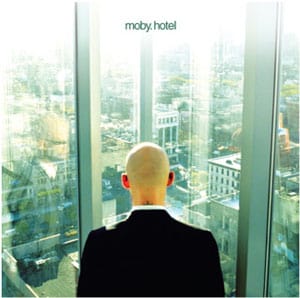 Each of the 18 tracks on Moby's 1999 album Play were licensed for advertising, TV, or film, making it the most marketed album ever. Upon first glance, his upcoming title, Hotel, is a brilliant piece of consumerism already.
It wasn't too long ago that all-too-chic boutique trendster hangouts like those owned by Schragers and Balaszes started offering "take home" CDs in the rooms that would later show up on your credit card for $25. It was the perfect opportunity for Moby's brand of ambient hypno-pop and sampled electronica to find its way into an audience eager for the latest downtown audio snack.
So, look! Hotel. Moby's no dummy. This little double-CD disc will show up in every rented room from here to Shangri-La, looking cozy between the white orchids and the room service menu.
My only suggestion is that the ambient half of the offering be titled moby.spa.
Moby, High Above Lower East Side at Thor [Curbed]