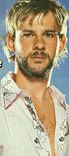 Contact Music is reporting that Lost's fallen rock star Dominic Monaghan was hesitant about acting because people might brand him as gay. "I always wanted to be an actor, but there was an embarrassing element to it. Maybe it was from this English stereotype of, 'If you're an actor, you're a homosexual,' which is a strange thing."
Well I'll be a hobbit, he was right.
Acting can be a full time thing for some actors, but we don't speculate here, just report. He was also spotted getting cozy with Lost costar Evangeline Lilly at the Globes. Somebody's publicity machine is putting in overtime.