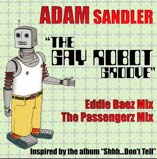 I never realized how much I would thoroughly enjoy these two club remixes created from the Adam Sandler gay robot monologue (from his 2004 CD Shhh…Don't Tell) about an inventor neighbor's robot that turns out gay.
The lisping robot comes over to Sandler's house for sex because he doesn't know anybody gay in the neighborhood.
Pulled vocal samples from the monologue include:
"Here's the problem. Your cock's not in my asshole."
"Can I suck, suck, suck your dick?"
"Oh look what happened! My robo-cock fell out of my pants!"
"We'll just whack each other off and I'll bail."
Integrating Sandler's fourth-grade humor into a novelty dance single appears to have worked. These are two fairly impressive tracks by Eddie Baez and The Passengerz. The Baez track has much of the original monologue intact, sandwiched between two beat-heavy segments, while The Passengerz version offers a more cleverly integrated weave of lyrics and music. But of course it all ends up sounding like the porn version of this.
Shelf life: short. Enjoy it while it lasts.