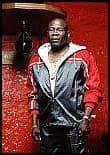 Boxer Benny (kid) Paret called Emile Griffith a queer shortly before they stepped into the ring. Griffith beat him unconscious and nine days later Paret was dead. Ring of Fire, a documentary about Griffith, airs on the USA network tomorrow night and is being criticized for not nailing the issue of Griffith's sexuality. That story is vividly illustrated in Gary Smith's article "The Shadow Boxer" which details his habitual visits to gay bars and the subject his friends all chose not to bring up, given the status of gays at that time:
"It's 1967. Mike Wallace concludes his groundbreaking 60 Minutes segment entitled "The Homosexuals" with these words: 'The dilemma of the homosexual: told by the medical profession he is sick; by the law that he's a criminal; shunned by employers, rejected by heterosexual society. Incapable of a fulfilling relationship with a woman, or for that matter, with a man. At the center of his life, he remains anonymous. A displaced person. An outsider.'"
The story of Paret's taunts, Griffith's "secret" life, and the 1992 gay bashing that left him close to death is compelling stuff.
It's amazing how little has changed within the world of sports since that time. "Ring of Fire" attempts to tell Griffith's story but may prove to be more illustrative of the closeted nature of the sports/boxing world today.
The Shadow Boxer [sports illustrated]
A Welter of Emotions [ny daily news]