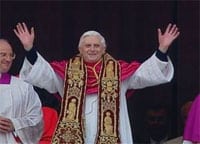 No refreshing change from the Vatican. That puff of white chimney smoke was made of the same stale air the Catholic church has been spewing for the last three decades. As Sinead would say, "Fight the real enemy." Ratzinger authored many of the anti-gay statements released by the Vatican under John Paul II.
**Supports proactive stand to halt governments from legalizing same sex marriage.
**Wants laws that allow gays to adopt children repealed.
**Opposes contraception and condoms to combat AIDS/HIV.
**Wants women to have a limited role in the church.
BBC: "The Vatican has launched a global campaign against gay marriage in an attempt to reverse the spread of legislation in Europe and the Americas that permits it. In a strongly-worded 12-page document signed by the Pope's chief theological adviser, Cardinal Joseph Ratzinger, the Church brands homosexual unions as immoral, unnatural and harmful."
Related
Ratzinger Elected Pope [reuters]
Papal Hopeful is a Former Hitler Youth [times online]
Will Next Pope Be More Gay-Friendly? [365gay]
Gay Catholics Don't Expect Vatican Change [abc]
He's Gone [tr]