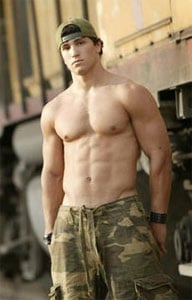 Olympian and football/skiing pin-up (and erstwhile Abercrombie cover boy) Jeremy Bloom gets in a short interview with Outsports in which he talks about his gay fans and how he'd feel about a gay guy in the locker room.
Outsports held a discussion board contest to crown the "King of the Hardwood" (sports' hottest man) and Bloom knocked out the competition 56-44%.
Bloom seems somewhat coy in his responses to some of the questions, as if he's thinking about them for the first time. When asked how he feels about being determined "the best looking man in sports" he replies, "To be honest, I don't really feel honored that much. Not because it's 'gay men' but because I think outside beauty is a shallow thing. It would be an honor to me if I was regarded by people as a man with great character and determination."
An admirable answer, for sure, but one look at his website (or two or three) will tell you he's definitely not out of touch with his "outside" beauty. And I don't mind that a bit.
Jeremy Bloom Named King of the Hardwood [outsports]
Jeremy Bloom and the New International Male [tr]