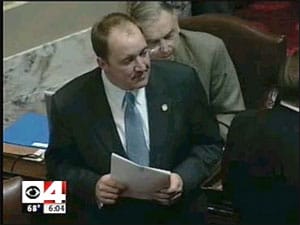 Minnesota Republican state senator Paul Koering, who recently came out and said that he endorses the exposure of closeted hypocrites, says he'll probably still vote to pass a constitutional amendment banning gay marriage.
"You know, I'm gay. Now, as far am I'm concerned, the matter is closed. I hope people don't think I am an activist. I'm not trying to be activist, and I'm not trying to draw attention to me. I'm just trying to do my job."
Related: BlogActive has posted audio tapes of Paul Koering.