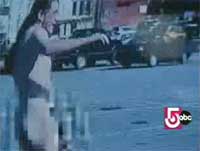 Naked skateboarder gets Maine town all excited: "You just kind of wonder what they're capable of if they're out there at 4 p.m. on a Friday afternoon." Video.

Porn maven Michael Lucas on something he finds is as rare as a perfect diamond—the enema: "It's puzzling to me. We can spend hours shopping for a fucking towel rack at Bed Bath & Beyond, but can't bother with a simple hose that can cleanse you from the inside, like a Sunday morning confession."

Rupert Everett writing his memoirs.

Gay marriage opponents in Arizona seek constitutional amendment banning gay marriage even though same-sex marriage is already illegal there.