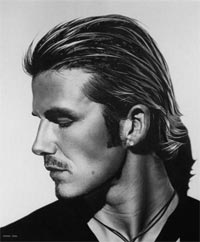 A new British Sneak magazine survey of 2,000 boys with the average age of 15 shows that the "metrosexuality" of European athletes has caused a surge of interest in grooming, plastic surgery, and a new host of body image issues. Athletes like David Beckham and Gavin Henson are their style icons, according to the survey.
Among the other findings:
80% are unhappy with their appearance. 62% don't like their faces. 68% don't like their teeth. 25% would consider plastic surgery. 40% think their fathers look good for their age. 80% think getting in shape would improve their quality of life and make them happier. They look in the mirror an average of 10 times a day. 69% think they look the most appealing in jeans and a t-shirt. 72% would like a makeover.
"Of those teenage boys questioned, 96 per used deodorant, 90 per cent hair-styling products, 72 per cent aftershave and 50 per cent have tried moisturiser. Forty per cent claim to have used hand cream, and 17 per cent have used fake tanning products. They say they spend 65 minutes getting ready for a night out and 34 minutes getting ready for school. A third think they need to lose weight and have tried to diet an average of four times."
Sneak Magazine's editor said, "When boys see masculine men like Gavin Henson, the rugby player, paying obvious attention to their appearance, taboos about fake tanning and beauty regimes are broken down. Suddenly, taking care of their bodies seems less 'girlie' and embarrassing."
Or…perhaps there's a relationship between boys wanting to emulate the hunky Henson and the fact that his girlfriend, the singer Charlotte Church, has been voted the new #1 gay icon by readers of Attitude magazine.
I don't know about you, but all this data leads me to one conclusion: boys who read Sneak magazine and would bother filling out a survey are budding homosexuals.
One in Four Teenage Boys Think They May Need Plastic Surgery [telegraph]