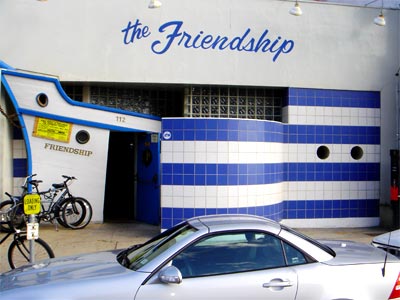 From our Los Angeles correspondent Phildog comes this photo and the sad news that The Friendship, a gay bar in Santa Monica adjacent to Will Rogers (or Ginger Rogers as it's fondly known to the gay men that frequent it) Beach has been sold and will no longer be around as it is today and has been for over 60 years.
Why get nostalgic for The Friendship? I always knew it as a little, seedy beach bar hole in the wall, a bare cement space adorned with a few cheesy tropical decorations, a jukebox, and a pool table. It has a back patio surrounded by a ten foot wall with peepholes in it where you can look out on a cement, duck-populated drainage canal that dumps straight into the Pacific Ocean. Nothing scenic about that. It bears the indelible smell of stale beer, sand, and male body odor.
It's one of the few gay places in L.A. that doesn't spill over with attitude. It remains unpolished. You can sit and have a beer and watch a game of pool. And The Friendship has remained virtually the same since 1937 when it opened and was reportedly served one of the first liquor licenses in Los Angeles.
At that time, according to this article from IN Los Angeles published a few years ago, word of mouth brought gays to this scenic canyon enclave by the beach where The Friendship now stands. West Hollywood and its strip of bars and clubs was nonexistent. Will Rogers Beach has been a gay beach since the 1940's and The Friendship provided an after-beach retreat, or an after dinner hangout for those frequenting the nearby canyon restaurants.
The writer Christopher Isherwood and the painter Don Bachardy had a house in the canyons above The Friendship and frequented the bar during their relationship. IN reports that The Friendship even made it into one of Isherwood's novels called A Single Man
:
"You pushed aside the blackout curtain and elbowed your way through a jam-packed bar crowd, scarely able to breathe or see for smoke. Here, in the complete privacy of the din and the crowd, you and your pickup yelled preliminary sex advances at each other. You could flirt, but you couldn't fight; there wasn't even room to smack someone's face. For that, you had to step outside. Oh the bloody battles and the sidewalk vomiting. The punches flying wide, the heads crashing backwards against the fenders of parked cars. Huge diesel-dykes slugging it out, far grimmer than the men…hitch-hiking servicemen delayed at this corner for hours, nights, days; proceeding at last on their journey with black eyes, crab-lice, clap, and only the dimmest memory of their hostess or host."
While The Friendship was never this crazy when I visited it during my years in L.A. I can't deny that I saw some sidewalk vomiting or heard some preliminary sex advances!
In any case, I have had my share of after-beach beers at The Friendship and am sad to see it go. Its name is apt. A place for good friends and strangers — and as for the strangers, well, the more they drank, the friendlier they became.
Related
End of an Era in Times Square [tr]