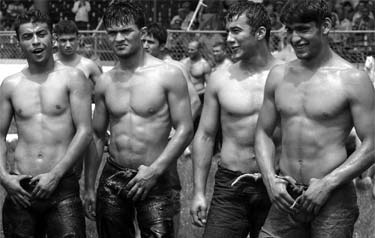 Openly gay Turkish singer Fatih Urek has said he may put in a bid to host the national tournament of Turkish Oil Wrestling, an announcement that has traditionalists cringing. The ultra macho sport has been practiced for centuries and its participants marked by a cameraderie and closeness towards one another that appears outwardly homoerotic yet is defended as distinctly heterosexual.
Urek's intention has ruffled the feathers of Justice and Development party deputy Necdet Budak who said, "We cannot accept that these wrestling matches will be stained by this incident." The wrestling matches, held forty at a time in a grass field with bare-chested participants covered in olive oil so that dexterity is valued over strength, allow wrestlers to thrust hands and arms down their opponent's leather pants because the bodies are so difficult to grasp. I can't possibly imagine why a gay man would even be interested.
Photo via Terry George.