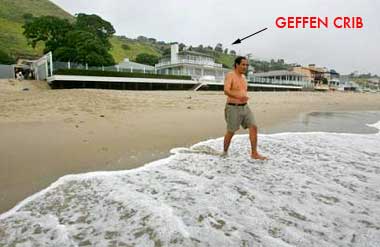 The beach in front of David Geffen's Malibu compound reopened today as the end result of a 22-year-old legal "promise" that the public be able to use part of Carbon Beach, east of the Malibu Pier. Even as dolphins frolicked in the surf, the L.A. Times reports things were not as welcoming as they may have appeared:
"Geffen had installed video security cameras that scanned the paved path off Pacific Coast Highway and every inch of beachfront in front of his house. The cameras were watching for "trespassers" stepping out of the public right of way and onto his private sand. Several times during the Thursday visit, a security guard came out to order visitors off Geffen's property. Once, a guard demanded that a beach umbrella leaning several inches over the imaginary boundary line be moved."
Still, Geffen did open it up. And personally, if I paid bank for my compound, I'm not sure if I'd want all these SHOOBs on the beach either!
And Now the Coast is Here [la times]
Related
Surfin' Safari [tr]