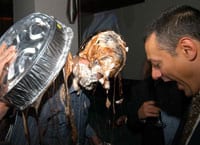 For weeks Nick Denton's Gawker has been waging an online battle with Maer Roshan's Radar magazine. With both entities clawing for the advantage in skewering celebrities and media figures, who knew what fireworks would occur when Denton landed at the Radar launch party…
Well, Denton ended up covered in pie, and reportedly returned the favor by dumping a glass of wine on Roshan's head.
But the most interesting turn of events is that Matt Drudge, who has been prodded by Gawker's editor Jessica Coen for weeks, finally decides to pipe up and enjoy a bit of schadenfreude.
Stunt or not, there's nothing like a good catfight!!!