Some new shots have surfaced of the anticipated December gay cowboy flick Brokeback Mountain. They come courtesy of a promo trailer for Focus Features and offer more glimpses into the Ang Lee film. The film was recently turned down for consideration at the Cannes Film Festival, but then again, the committee has never been receptive towards any of Ang Lee's films.
Thankfully, we've seen nothing that would indicate that Lee has treated the subject matter with anything other than the grace it deserves. That said, we've hardly seen much at all and have yet to hear an ounce of dialogue…
…however…Towleroad has heard from a source that the film does feature a sex scene in a tent, apparently done tastefully but also explicitly!
The new stuff:
A beat up Jack Twist (Gyllenhaal) drives away, checking his rearview mirror. Could these shiners be the result of the rough sex Jake so excitedly went on about?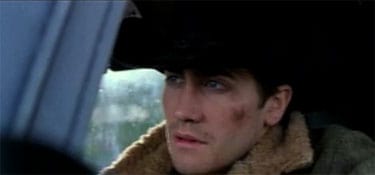 And who's in the rearview? Jack may be cruising the local gay strip but methinks it's the Ennis Jack is hungry for…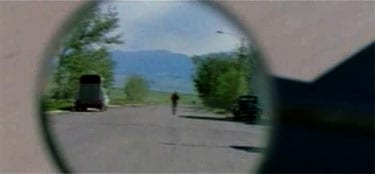 Ennis del Mar (Ledger) kicks some cowboy ass at a rodeo (?) while Alma (Michelle Williams), Heath's real life squeeze, watches and cowers…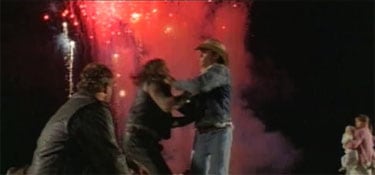 That's how we treat fagbashers out here!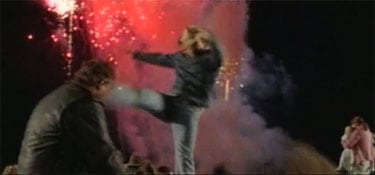 Ennis gives a hug to somebody…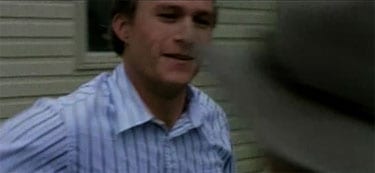 Then broods and smokes, thinking of someone in a sexy pair of chaps…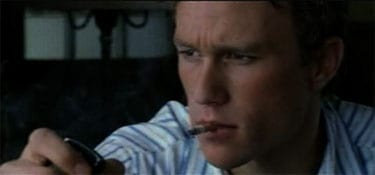 But who could concentrate on anything else with a dreamy face like this in his head all afternoon???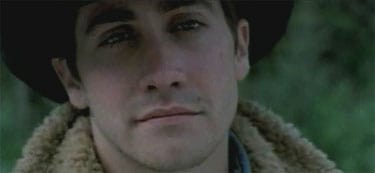 Oh….the heartbreak of cowboys in the closet…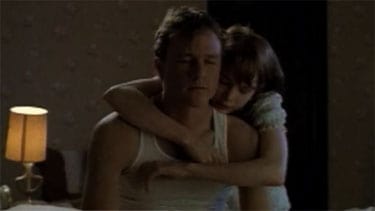 Still, questions remain. Will this film be treated like Stone's Alexander and get gun shy on the gayness? Will there be a kiss (or a naked romp in the countryside?) between these two young stars? Will we be clapping with glee or hissing in distress when the final credits roll? We're counting on you Ang.
Related
Cowboy Ballads [tr]
Brokeback Mountain Teaser Trailer [tr]
Heath and Jake Swap Spit [tr]
Cowboy Love [tr]