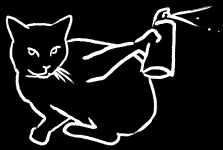 What happens when a gay man buys AXE unawares? Brenner Thomas is shocked to find himself using a shower gel meant to attract "unrelenting female attention." The Washington Post waxes on about the race for dominance in the male body spray market, a market in which AXE has a definitive lead.
Touch, Essence, Phoenix, Kilo, Tsunami, Orion, Apollo and, of course, Voodoo are the AXE scents meant to make women ravenous for sex.
With straight men racing to buy grooming products faster than you can say David Beckham, I wonder when and if they'll start marketing a line for gay men? Brenner's initial attraction to the bottle and the scent made me think there's an opportunity here. With some subtle marketing changes you can have a certain segment of men racing to store shelves — the same ones who go for the Brawny paper towels because the Brawny guy is just so yummy.
These suggestions of course are meant to be ridiculed, balked at, and trashed:
For those more inclined to visit Spike than Splash: Pit, Lager, Woof, Diesel, Scruff, Joe, Gravel, and of course, Chewbacca.
For those more inclined to visit Splash than Spike: Skin, Heaven, Attitude, BPM, Blade, Midnight, and of course, Britney.
Names we'd never want for a body spray: Flame, Parade, Rainbow, Harvey, Clone, Mangina, Anthem, Rosebud, Queen, Wet, and of course, Pride.
Feel free to leave your suggestions in the comments.
Then again there are those of us who would never think of using a body spray in the first place.
Axe Shower Gel Promises Cleanliness, Sex [noba]
Strong, Man [washington post]