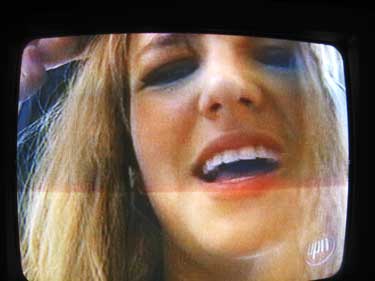 Take a long look at this picture. Congratulations. You've already watched most of Britney & Kevin: Chaotic, for 75% of this new UPN baby's airtime is taken up by ultra close-ups of Britney Spears mugging for a handheld camera, widening her doe eyes and contorting her greasy nose into the perfect pop swine portrait. The show is basically the brainchild of Newlyweds: Nick and Jessica and Madonna: Truth or Dare. Unfortunately, this child got all the bad genes.
Chaotic makes Nick and Jessica look like Masterpiece Theatre. Aside from the ultra close-ups, the other 25% of the show Britney spends chasing people down with the handheld, and they're right to run. They might get asked a fascinating question like, "What's your favorite sexual position?" Does anybody really care about the favorite sexual positions of the crew on Britney's concerts?
I guess it's obvious I didn't like the show. Ya think? It hit me right off the bat with the laughable "commitment" segment in which Brit interviews the people around her about their take on love and marriage. There's some reference here to her short-lived marriage to Jason Alexander and some goofy giggling about getting married twice. It just ain't that funny when you're aware of how many people out there in real, loving, committed relationships can't even get married once. I realize this show is fluff, but from my perspective, this short exchange demonstrated that getting married is a right so many people just take for granted.
The parallels to Madonna's Truth or Dare are obvious enough; the rich superstar, lonely on her concert tour; sex talk with her (shock!) gay hairdresser; interspersed concert footage. Do I like voyeuristic shows about celebrities? Sure! Unfortunately, this is about as much fun as watching the videos your neighbor took on his vacation.
Britney seems like a sweet girl without an original thought in her head. What the show really needs is a director, and I know the perfect guy for the job.
What others are saying:
Perez Hilton: "Britney Spears is a big fucking dork, and we love her!"
Washington Post: "There's no danger of anyone ever dumbing it down. A dumber downer would potentially be lethal. It would have to be buried in lead for 10,000 years, like nuclear waste."
TV Squad: "Britney Spears is a televisual retard compared to her mentor – not only is she nowhere near capable of manipulating the media in the way Madonna does (or, really, did), she's barely up to finishing her own sentences."