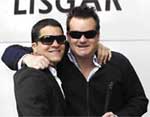 Amazing Race gay couple Lynn and Alex to wed today in Canada in front of 400 friends, family, and media.

Desperate Housewives creator Marc Cherry looking for a gold digger?: "I'm going to wait until I have a few million put aside. I'll get a better partner once I'm rich."

Queer Eye for the Straight Guy truncating its name to Queer Eye. Reality Blurred: The translation: "We've completely run out of ideas, so now we're changing our name. Will you please watch now?" Another possible translation: "We ran out of straight guys in the greater New York area, and we don't want our title to be misleading."

Music for airports? iPods are now available in terminal vending machines.