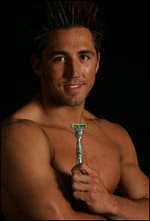 Gillette is snatching up metrosexual European athletes faster than a San Francisco 49er runs from a poof in the locker room. Gold and silver-booted Welsh rugby star Gavin Henson, fond of shaving his legs before matches, will follow in David Beckham's footsteps as a male grooming spokesmodel for the company.
European athletes are reaping the benefits of their comfort with activities like grooming, stepping into the limelight while the Americans (particularly the football players) are stuck in an image quagmire.
The recent 49ers diversity video scandal has inspired hundreds of op-ed pieces questioning the "boys-will-be-boys mentality" present in the locker rooms of professional sports and caused the resignation of PR director Kirk Reynolds.
While the Americans are busy worrying about gay athletes boning up in the locker room at the sight of naked male flesh, a worry as homophobic as it is unfounded, European athletes like footballer Cristiano Ronaldo and the French rugby players are making bank off their comfort with disrobing for the cameras.
When will the masculinity-challenged Americans realize that tolerance is good for the wallet?