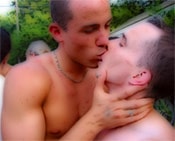 There's a massive article in the Sunday NYT magazine by Russell Shorto regarding the conservative Christian stance against gay marriage and what motivates these people to behave the way they do.
Here's the crux of it:
"But for the anti-gay-marriage activists, homosexuality is something to be fought, not tolerated or respected. I found no one among the people on the ground who are leading the anti-gay-marriage cause who said in essence: "I have nothing against homosexuality. I just don't believe gays should be allowed to marry." Rather, their passion comes from their conviction that homosexuality is a sin, is immoral, harms children and spreads disease. Not only that, but they see homosexuality itself as a kind of disease, one that afflicts not only individuals but also society at large and that shares one of the prominent features of a disease: it seeks to spread itself."
The story looks at several people involved in the pursuit to strike down gay causes in Maryland, including stay-at-home mom Laura Clark, who figures prominently. Shorto describes how the Massachusetts gay marriage legislation galvanized her to action: "She looked at the development not as an effort by members of a minority to win rights that others have long enjoyed but as an attack on society's most basic institution by forces bent on creating an amoral, anything-goes culture."
Since then, her wider views on homosexuality have been clarified to include a warped view of hate crime legislation in Maryland: "The purpose of the hate-crime legislation seems to be just to silence those of us who oppose homosexuality." And her opinion of why gays want to be allowed into the medical decision-making process: "We know it's a back-door way for the homosexual activists to get gay marriage."
It's an eye-opening article, full of ridiculous assertions by these people: "Once you start this, you could have a 45-year-old man wanting to marry a 9-year-old boy. That could be O.K. in 20 years. That's what you get with relative moral truth. Whereas with absolute moral truth, what was O.K. 50 years ago will still be O.K. 20 years from now."
Pastor Brian Racer laments the co-opting of the word gay: "The male is the piercer; the female is the pierced. That is the way God designed it. It's unfortunate that homosexuals have taken the moniker 'gay,' because their lifestyle and its consequences are anything but. Look what has happened in the decades since the sexual revolution and acceptance of the gay lifestyle as normal. Viruses have mutated. S.T.D.'s have spread. It shows that when we try to change the natural course of things, what comes out of that is not joy or gayness."
Until these people are convinced (which may never happen) that homosexuality is not a choice, but is part of God's great plan, we're up against a huge ignorant force of people. This article is somewhat terrifying and shows the work that must be done to mobilize in order to retain and achieve our most basic human rights.
What's Their Real Problem With Gay Marriage? (It's the Gay Part) [nyt magazine]