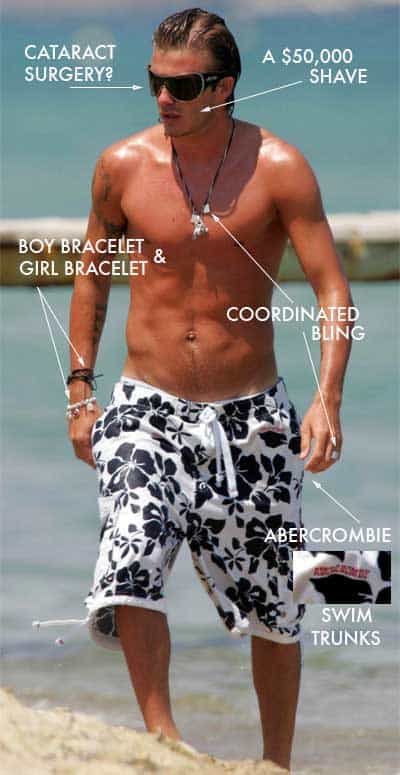 While we're on the topic of "gay vague", take a look at David Beckham in St. Tropez the other day. This is about as calculated as a look can get. When you look at it next to Jake Gyllenhaal's comparatively simple surfing look, Beckham looks positively affected, though still, I'll admit, hot as hell.
First of all, what's with the sunglasses? Are they sunglasses or water goggles, because he's obviously been swimming in them and they probably cost a fortune. Unfortunately, they look like the glasses my grandmother was made to wear after she had cataract surgery.
And whether he thought about it or not, those two bracelets are deliberately confusing. Mixing the white girly charm bracelet with the more manly minimal leather string is a masterwork of gay vague!
He's obviously been putting his new $50,000 razor to good use, carefully patterning his shave to get the kind of layered stubble look that only comes with two to three days of careful coordination.
The way he ties in his square ring with the charms in his necklace, which incidentally is braided with a leather strap to tie into the dark bracelet on his right arm. Now that's accessorizing!
Finally, David's no Speedo man. He wears a more masculine and modest pair of surf jams. But — to work that gay vague look a bit harder — he's chosen a floral pattern. And the swimwear is, of course, Abercrombie.
What pressure it must be to be the world's ultimate metrosexual. On top of it, David Beckham is a gay vague masterpiece.
UPDATE:
Today's Daily Mirror UK featured a Speedo-ed out Becks in as much gaudy gear.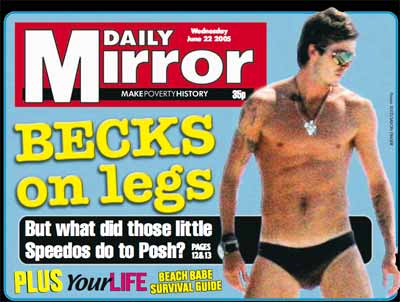 Related
Happy Father's Day Becks [tr]
David Beckham: The Player [tr]
David Beckham in the Flesh [tr]