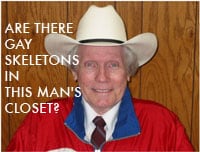 I wish I'd caught evil Reverend Fred Phelps on Alan Colmes' FOX News radio show, but News Hounds' transcript of his exchange with Colmes offers a pretty good picture:
Colmes, perhaps also recalling Randall Terry, asked Phelps if he was a repressed homosexual.
As he did the last time Colmes asked, Phelps ducked the question. "If you don't get off that – you did that last time. Nobody asks that kind of an insulting question except a fag. Are you a fag?"
Colmes answered, "I'm a happy person but I'm not gay."
Phelps: Well, Then don't be asking an impertinent question…
Colmes: I can't believe you'd go on and on and on…
Phelps: What's that got to do with it?
Colmes: You froth at the mouth about homosexuals…
Phelps: What's that got to do with it?
According to the News Hounds report, "Phelps has been picketing the funerals of soldiers killed by improvised explosive devices in Iraq as divine retribution for the 'fags' who set off a bomb at his church." Phelps ended his interview by telling Colmes, he's "the only one who loves these fags."